The holidays have come and gone, and for that matter, so has the year. I finally undressed my Christmas tree. It's limp limbs are far beyond dehydrated – they're as crisp and dry as Melba toast.
I was on hiatus from the blog for a while – surely you understand how crazy it gets during the holidays – but I can make up with a recap:
Thanksgiving was truly a feast of family and food: rib roast, stuffed chicken, gnocchi, creamed spinach, mashed potatoes, bread rolls, spiced nuts, gougeres, poached pears, almond lace cookies, chocolate pecan pie, pineapple pie, apple tart, and a partridge in a pear tree. The table that supported the buffet groaned as much as our stomachs after dinner. Here's a taste…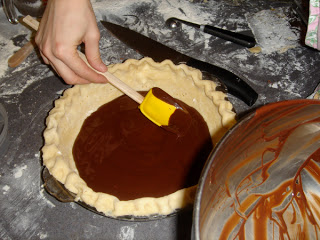 Oh, and yes, how could I forget. There was An Accident. When it was time for dessert I went to unmold my carefully assembled tarte aux pommes. Since it was a false-bottom tart ring I insisted on doing it myself. I lifted the tart up and the bottom betrayed me. Or maybe it was the butter in the crust. Regardless, bottom or butter, I gently pushed up the tart only to have it slide and then fly right off the mold, above the table, past the edge, and down the side, to its final, catastrophic resting place: the hard, cold floor. Face down. I crawled under the table to see if a rescue was possible, but it was beyond rescue. So sad.
Christmas was I regret to inform you, disappointing. I tried my darnedest to get into the spirit, with carols and twinkle lights, but to no avail. It was just the mister and me and we wound up dining with friends. The stuffed chickens made an encore, along with a chocolate sandwich cookies and a croquembouche, but even a mountain of éclairs couldn't make up for the fact that we were away from family.

Santa did pull through, though, which was a huge comfort. I am now the proud owner of a 2-quart ice cream maker. I've already made double-chocolate hazelnut, and there will be lots more to come… Cream cheese and guava…Key lime pie…pineapple caramel swirl… bananas Foster… chocolate and peppermint marshmallow… If he brings me a deep-fat fryer next year my arsenal will be complete!