I adapted this from Lidia Bastianich's recipe for Gourmet. It's confetti-colorful and pulls together a delicious variety of flavors. I'm ranking it right up there with that Turkish rice concoction I put together a while back. Serve it with roasted pork loin for a spectacular weekday night dinner.
1 large head escarole
¾ C. Arborio rice
½ C. pine nuts
extra-virgin olive oil
2 garlic cloves, finely chopped
1 red peppers, roasted, peeled, and chopped
1/3 C. chopped and pitted dates
3 tablespoons chopped rinsed capers
¼ C. grated Parmigiano-Reggiano
salt + pepper
Remove base from escarole and cook in a pot of boiling salted water, about 5 minutes. Drain and refresh, then corsely chop. Set aside.
Bring 1 quart water with 1 ½ tsp. salt to a boil in a medium sauce pan. Parboil rice, uncovered, 10 minutes. Reserve 1 C. of the cooking liquid, then drain rice in a sieve.
Cook pine nuts in some olive oil over medium heat, stirring, until golden.
Add chopped roasted pepper and chopped pitted dates and continue to cook, stirring, about 4 minutes.
Add capers, minced garlic, and chopped escarole and cook for an additional 3 minutes.
Add rice, mixing well with ingredients, and some of the reserved cooking liquid if rice is too firm. Cook on low heat for a few additional minutes to allow flavors to meld.
Adjust seasoning and mix in grated cheese.
I decided to roast my own red pepper rather than use the jarred variety – just personal preference.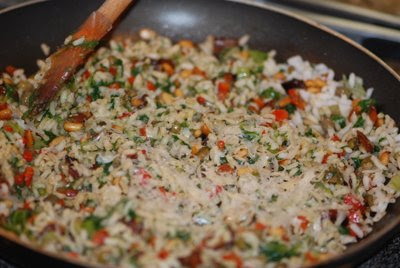 Grated cheese will melt nicely into rice. Add right before serving.

Serve with something un-fussy. This pork loin was seasoned with salt and pepper only.